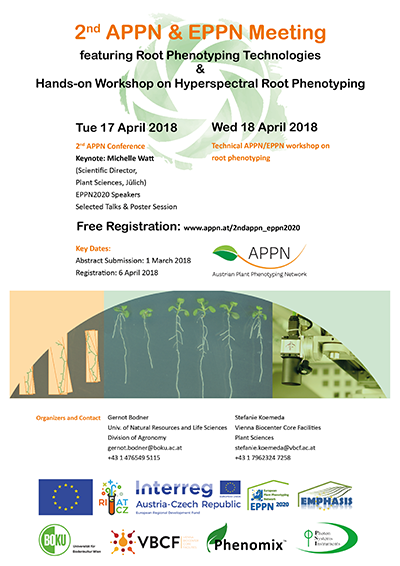 It is a great pleasure to invite you to the 2nd Austrian Plant Phenotyping Network (APPN) Meeting which will take place on the 17th & 18th of April 2018 at the BOKU Vienna and Tulln. This year we will be joined by the European Plant Phenotyping Network (EPPN2020).
The meeting will give you the unique opportunity to present and discuss your research in a highly multidisciplinary and international environment. We also offer a technical workshop on root phenotyping, including a field visit. We intend to bring together biologists, breeders, technology developer, imaging experts, statisticians and bioinformaticians.
The keynote lecture will be given by Michelle Watt, Scientific Director of the Institute of Bio- and Geosciences, Plant Sciences (IBG-2) Jülich, followed by EPPN2020 Speakers, selected talks and a poster session in the Festsaal at BOKU Vienna.
On the second day we offer a technical workshop on root phenotyping, taking place at BOKU Tulln.
Poster for download is HERE.